May is known as the National Mental Health Month and it's one of the best times to raise awareness on this matter. It's a delicate issue but it's crucial to end the stigma and also to help anyone suffering from this to recover.
That's why in this post, we'd like to share a few mindfulness tips for beginners to reduce anxiety. There's no need to step out of your home or do something extra as it only involves you being in the moment and just being fully present.
Disclaimer:
These tips and tricks should not be used as an alternative for medications and professional assessment. If you are experiencing any symptoms, don't hesitate to seek help.
Mindfulness Tips And Tricks For Anxiety
Set Daily Intentions
Setting daily intentions, whether you do it right after you wake up or before doing an activity, can help you have a destination — where you want to be, what you want to do, and/or why you're doing this.
For instance, if you're having anxiety because of an interview, you can either visualize success or ask yourself why you want this job in the first place.
Practice Mindfulness Or Guided Meditation
There are many free apps and programs readily available online to help you with guided meditation. It doesn't only save money, it also helps you save time. Instead of getting dressed, going out, and visiting an actual meditation class, all you have to do is download an app, like Calm and Headspace or look for a free meditation class on YouTube.
Tea Meditation
There's power and beauty in making tea — trust us and if you haven't done it yet. It's as simple as just being in the moment.
From watching the water boil to steeping the leaves and pouring the tea, know that every step is as important as the others. Of course, it includes using your senses and taking time to be grateful before actually drinking the hot beverage.
As for the drink, while green tea is always the top choice for tea meditation, you can always go for the flavor that suits you. That's the best part of practicing mindfulness and meditation, you don't have to follow a specific rule.
Go after what your heart desires — whether it's something minty, earthy, fruity, or basically any flavor of your choice.
Get The Creative Juices Flowing
Let your mind have the break it deserves by being creative. Whether it is doodling on a blank space or a coloring book, getting the creative juices flowing may help reduce anxiety by decreasing the thought in your restless mind.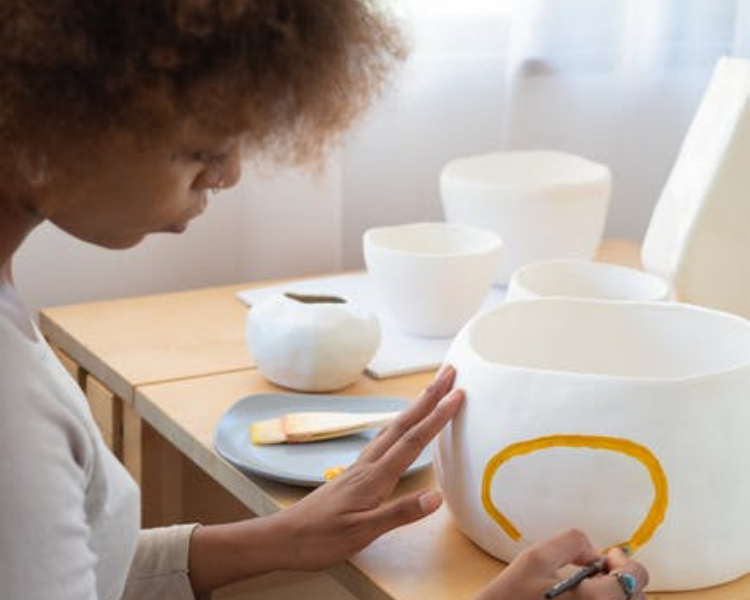 Look Up
Whenever you feel restless, taking a few deep breaths and looking up might help. It's a good way to take a moment away from your troubles and let the universe remind you that life is so much bigger than your worries.
One At A Time
Whenever you feel anxious about seemingly endless tasks you have for the day, it might help to focus on one thing at a time. Do a specific activity for at least 10 to 20 minutes and make sure that it's the only thing you do. No cellphone, no browsing online, no multitasking.
You might be surprised how spending a short time on certain activities with undivided attention can help accomplish so much.
Write In A Journal
We can't stress how beneficial a journal is and if you haven't considered it as part of your daily routine, now's the best time. There's no need for a fancy notebook or lengthy time, sometimes all you need is a 5-minute break to write your thoughts or doodle.
Looking for journal prompts? Here are some ideas for you!
What are the top 3 things you are grateful for?
What's the nicest thing someone has said to you?
Who are your greatest role models?
What's the biggest mistake you ever made and what have you learned from it?
Describe your day in one word.
Log Out
My personal fave — logging out of social media and just enjoying the day tech-free! While Facebook, Instagram, and the likes have its own advantages, it also has its drawbacks.
For instance, it might decrease productivity and increase anxiety.
If you can't log out for a long time because of personal or professional reasons, what you can do is set an intention or a time limit. That way, you won't spend 20 minutes or more looking at someone else's cat.
Guilty? Don't worry, you're not alone!
Anyway, these are just some of the mindfulness tips and tricks you can use to reduce anxiety. If you have other techniques, we'd love to hear them in the comment box below!